Want to hire mobile app developers in Ukraine but don't know where to start?
Not sure where to find the best Ukrainian developers?
I'll help you figure this out and answer other questions regarding outsourcing and hiring a Ukrainian mobile app development team.
Ready to start the journey?
When business owners can't find the right developers in their own country, they start searching for developers in other countries.
But often, they face a problem: they don't know where to start their search.
Today, I'll tell you about the outsourcing market in Ukraine: the most popular mobile app development technologies, average developer salaries, and where to find the best Ukrainian developers.
Huge talent pool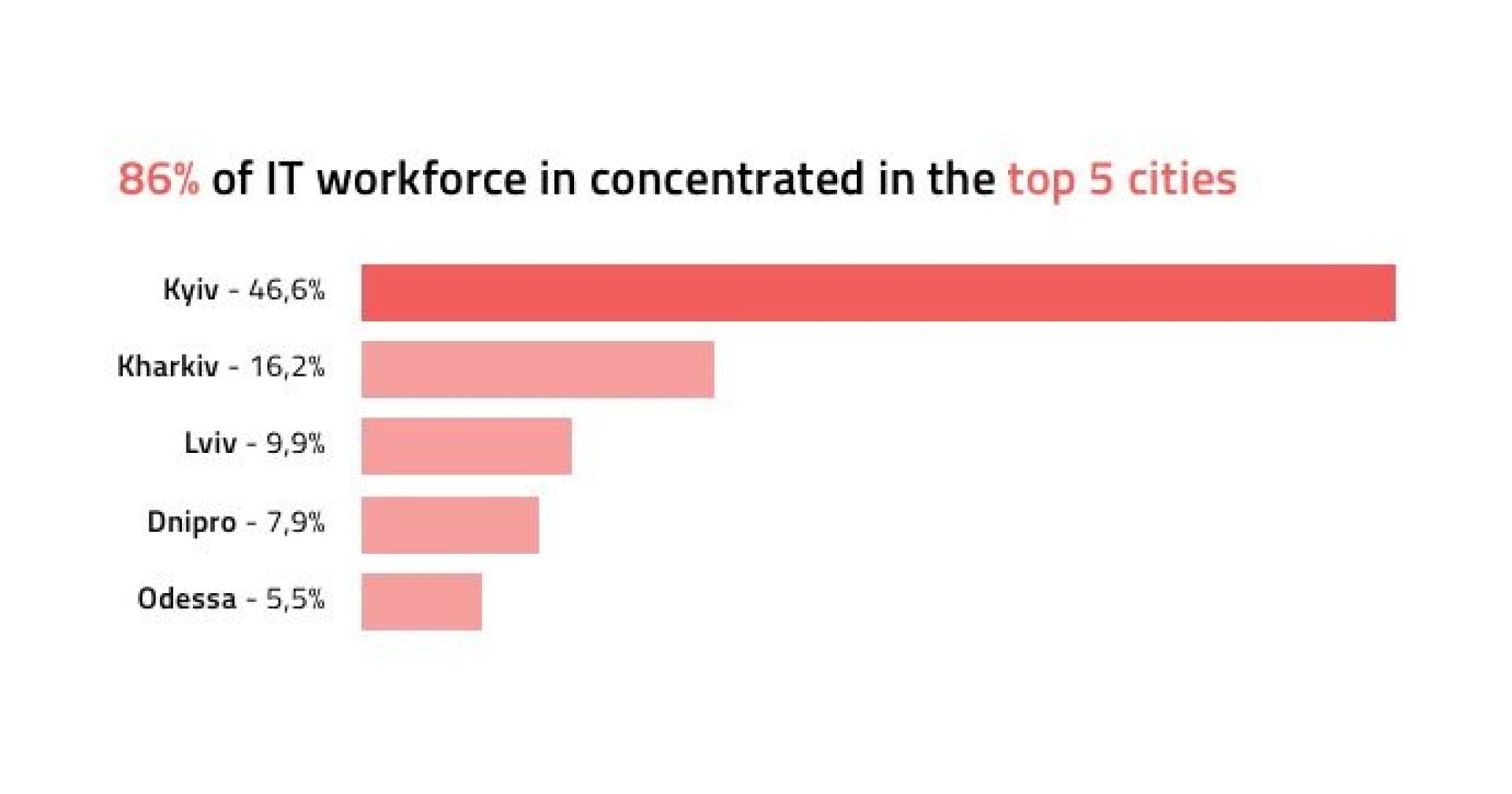 Source: DOU.ua – Percentage of Ukrainian IT workforce in top 5 Ukrainian cities (by population)
To begin our journey, let's have a look at the Ukrainian talent market. It's not a secret that there are many talented people living in Ukraine. Most of the IT workforce is concentrated in Kyiv, Kharkiv, Lviv, Dnipro, and Odessa. I would recommend choosing a mobile app development team in Dnipro. It's a less expensive place to live than Kyiv, and consequently salaries there are lower than in the capital. Under the Soviet Union, workers at the Yuzhmash plant in Dnipro built rockets. Today, Dnipro is home to many modern companies that conduct space-related, weather-related, and other scientific research that involves mobile and web app development.
Among all European countries, Ukraine takes 8th place in X's developer ranking, with an index score of 91.26. This demonstrates that Ukraine can compete with other countries and is on its way to the top.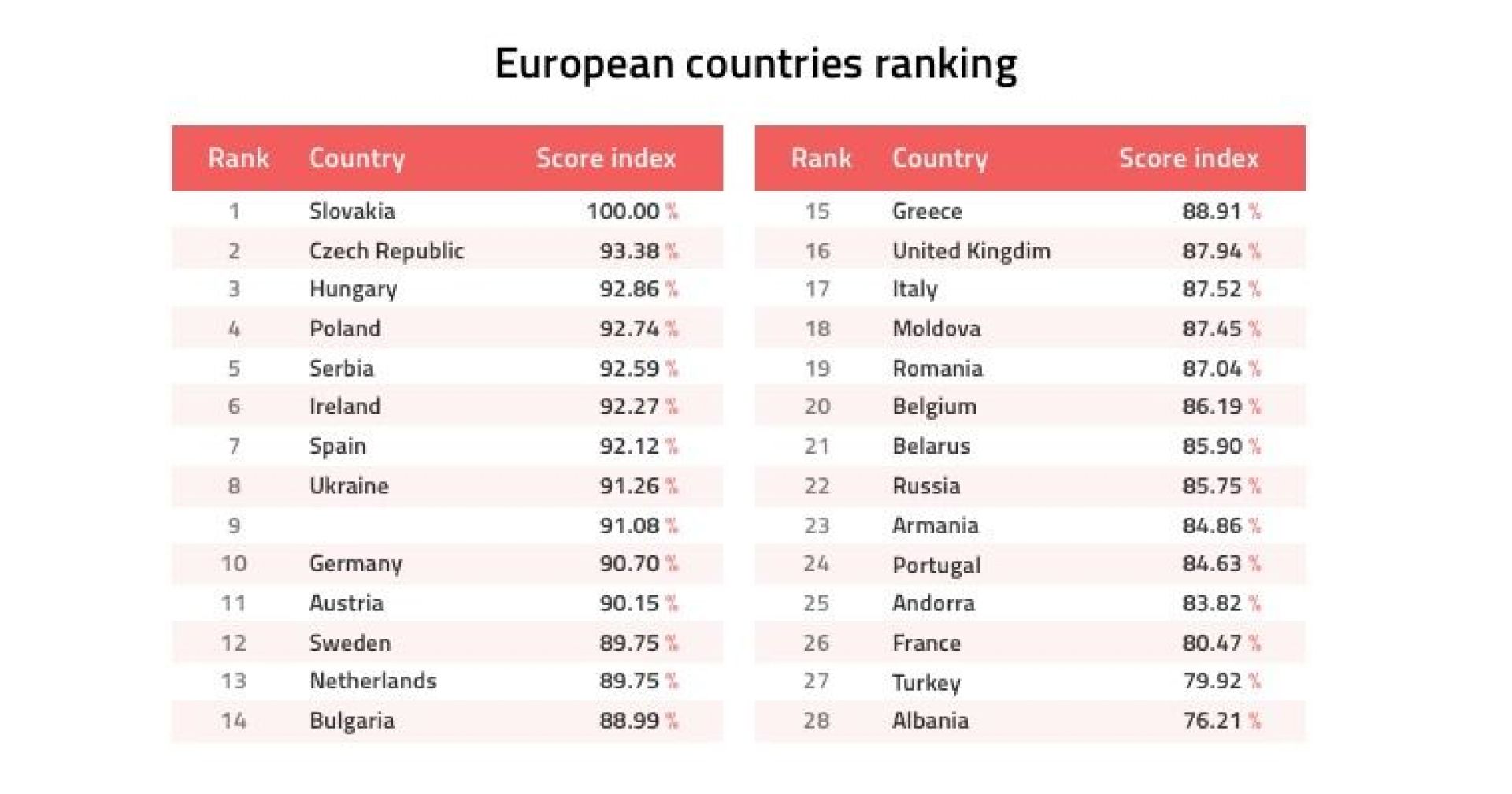 Source: SOURCE – European countries ranked by developer index score (20XX)
According to Stack Overflow, there are about 166,000 developers in Ukraine, and this number is increasing each year. So you have every chance to find professional mobile app developers for your project.
Ukraine is home to many universities, colleges, private IT schools, and other educational institutions that teach future developers to create mobile and web apps – and, of course, websites. These schools produce about 40,000 junior developers annually. The Ukrainian talent pool is open for foreign companies and affords a great chance to hire excellent IT professionals for a much lower rate than in Western markets.
How to hire the best Ukrainian mobile app developers?
While there are thousands of mobile app developers in Ukraine, not all of them are true professionals. In order to hire the best, you need to be patient and make an effort. Here are my tips to make the hiring process easier:
Post a detailed job description. Mobile app developers who lack experience will be scared to answer a post with a detailed description, helping you deal only with decent candidates.

Follow modern trends and use an up-to-date technology stack. Most Ukrainian mobile app developers won't agree to work with outdated technologies, as they're thinking about their future. Working with a modern tech stack allows developers to easily find a good job down the road.

Be ready to give feedback after the interview. If you don't give feedback after a day or two, developers may think you've already found a suitable candidate for the position.

Be friendly with your candidates. Mobile app developers are creative, and they like to build friendships at work. It's important for them to understand that you treat them as equals and want to talk with them not only about work.

Keep in touch with your mobile app developers. It's good to know you can call your developers and ask them a question. Do your best to call them at least three times a week.

Allow your developers to work when it's most convenient for them. Developers enjoy their flexible schedules, which is one of the greatest pluses of the IT field. Don't try to put your developers into frames.

Give your developers challenging tasks. It's no secret that developers like to solve challenges creatively and prove their expertise to themselves and to the world. Furthermore, this allows them to grow as specialists.

Show your developers that your company is trustworthy and financially stable. Nobody likes working with unstable or unreliable companies.
Hire mobile app developers with Headworks
(Headworks)[https://headworks.io/] is a (mobile app development outsourcing)[https://headworks.io/] company that was launched in November 2014. Since that time, our company has worked with clients from the United States, Canada, Germany, Holland, and other European countries. We currently have about 45 specialists including developers, designers, quality assurance engineers, business analysts, project managers, HRs, and marketers. Every day, we work to become the best mobile app development company for our clients. We improve the climate inside our teams to increase productivity and create a competitive and successful company. If you want to hire the best mobile app developers in Ukraine, contact us and share your ideas. Our team of business analysts, developers, and designers will estimate your project and answer all your questions regarding mobile app development.
What mobile app development technologies are most popular in Ukraine?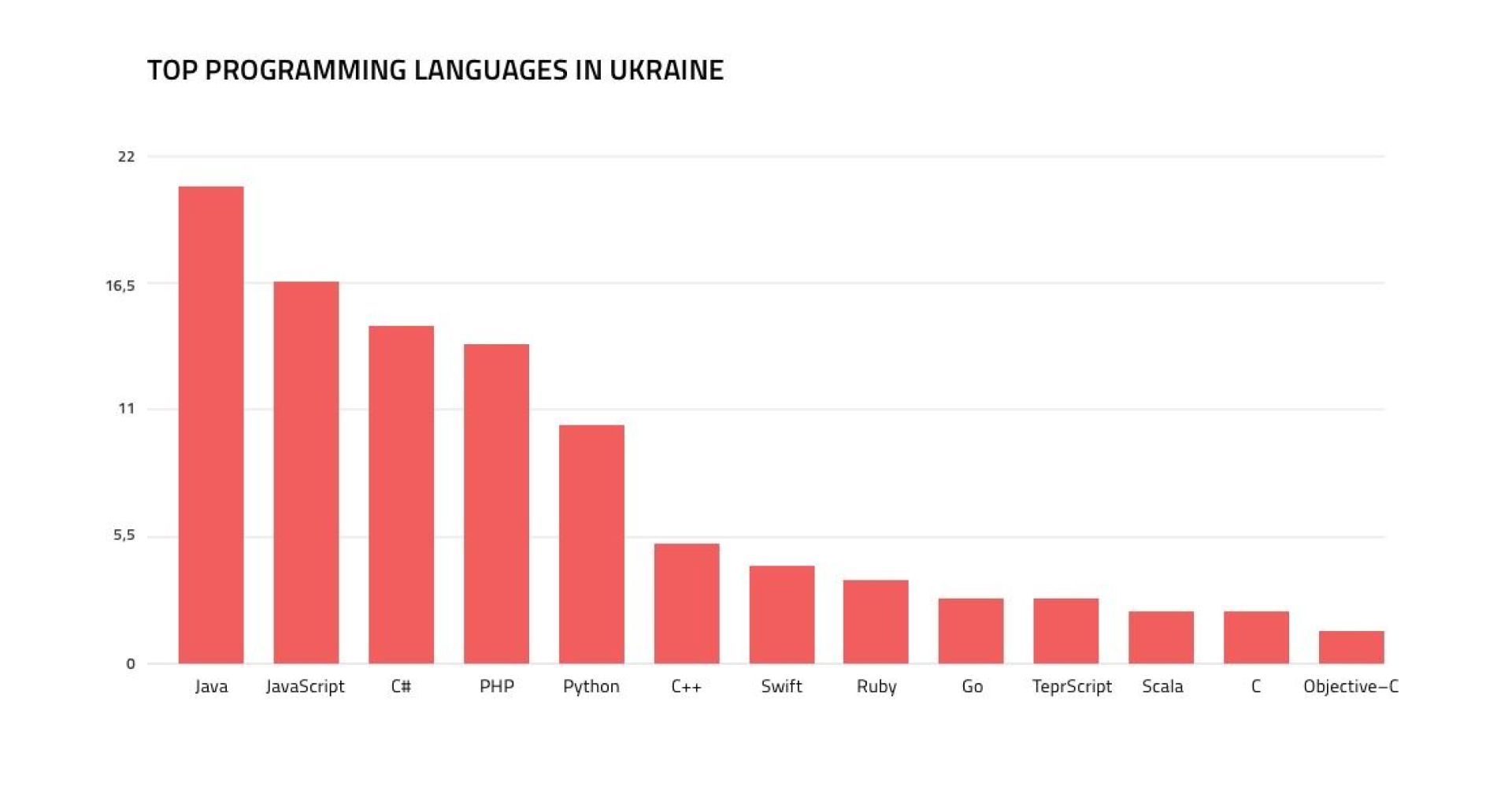 Source: DOU.ua – The most popular mobile app technologies in Ukraine
According to a DOU.ua report, Java, JavaScript, and C# are the most popular programming languages in Ukraine. Headworks follows modern trends and develops mobile apps in C# and Xamarin. Xamarin is a cross-platform C# framework that allows developers to write one codebase that works well for the iOS, Android, and Windows Phone operating systems.
Average salaries of Ukrainian developers
Now it's time to talk about how much money the average developer makes in Ukraine. First, you need to understand that the salary of a mobile app developer depends on at least three factors:
◦ Location
In big cities like Kyiv, developers can earn more, but the cost of living is also higher.
◦ Technology
C# developers earn more than PHP developers because PHP is a more common programming language, so it's easier to find a PHP developer.
◦ Seniority
It's clear that the salaries of senior developers will be higher than those of junior developers.․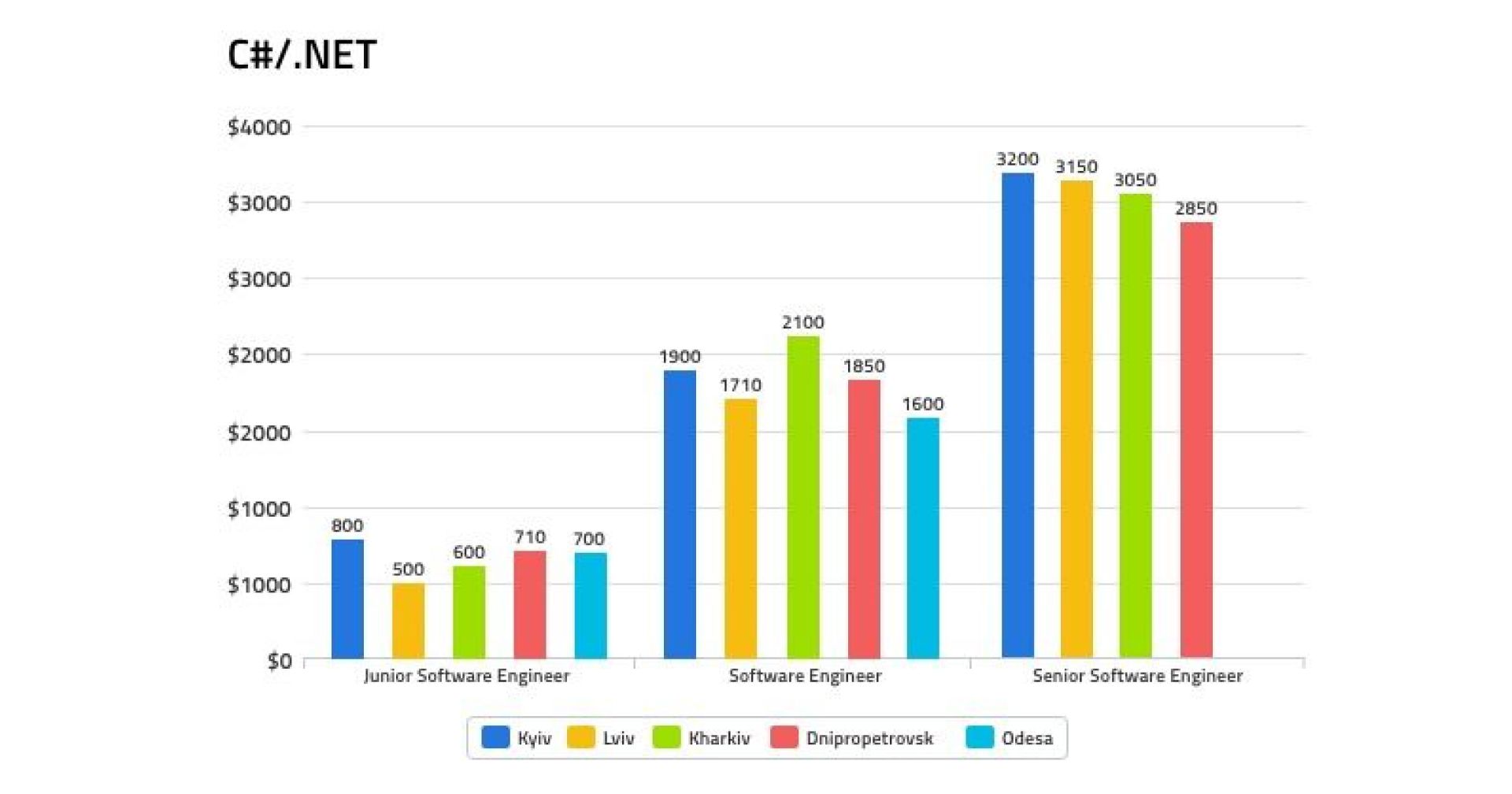 Source: DOU.ua – Average salary of Java developers in 5 largest Ukrainian cities
In this chart, you can see that the average middle Java developer earns about $2,000 per month in Kyiv and about $1,461 per month in Dnipro.
Here, you can see that the average junior C# developer earns about $800 per month in Kyiv and around $700 per month in Dnipro.
These charts show that the average salaries of mobile app developers in Ukraine are quite low in comparison with the salaries of equivalent professionals in the US. That's why many American, Canadian, and European business owners like to work with Ukrainian mobile app developers. It's really beneficial for both sides!
Where to find the best mobile app developers in Ukraine?
Now that you're excited about outsourcing to Ukraine, it's time to tell you where you can find the best Ukrainian developers. Here's my list of the top 10 places:
Upwork, Guru, Fiverr. These are platforms where you can find and hire freelancers and mobile app development teams.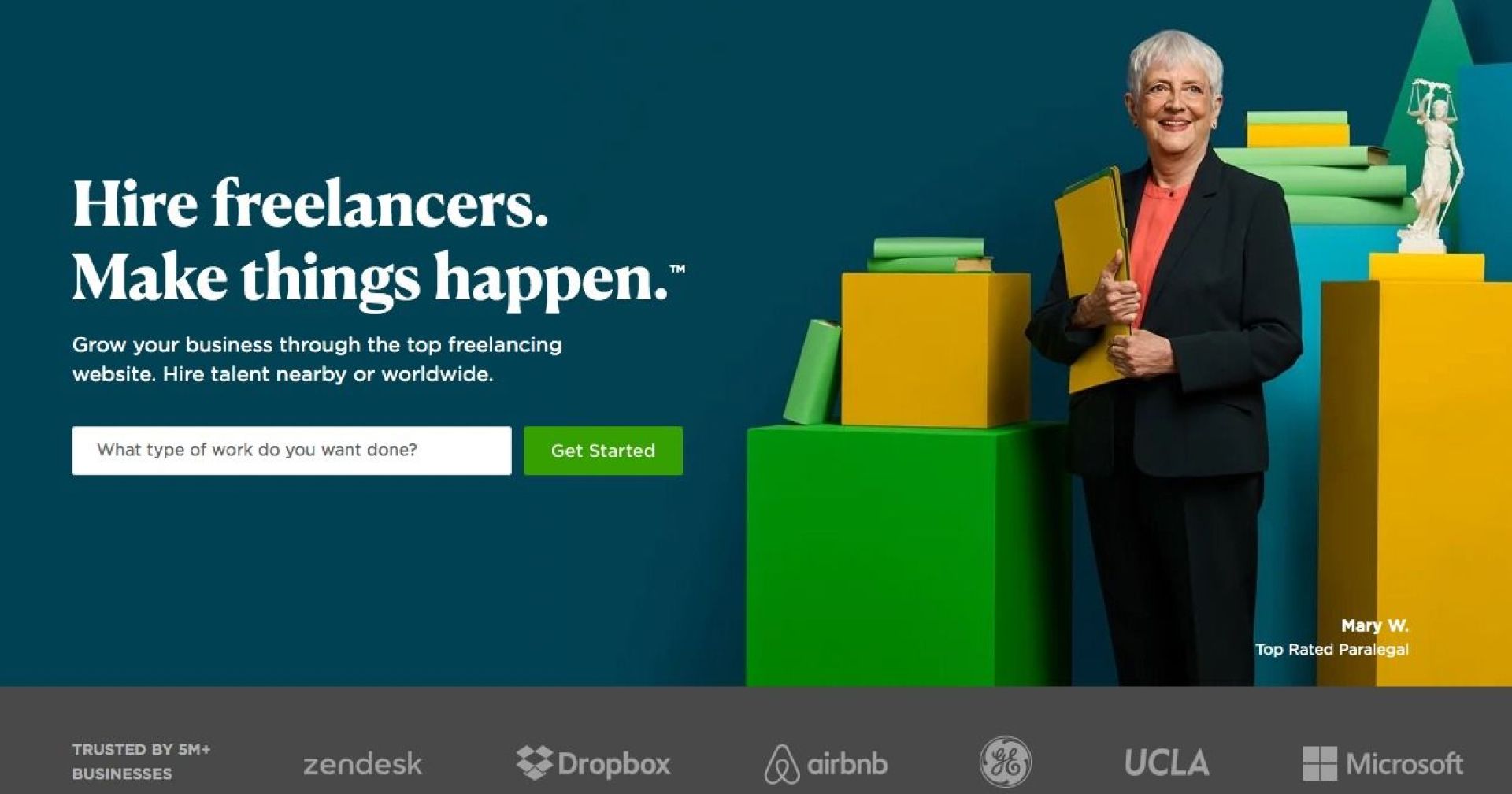 Source: Upwork – Landing page of the Upwork platform
Clutch. This is a website where you can find mobile app development outsourcing companies.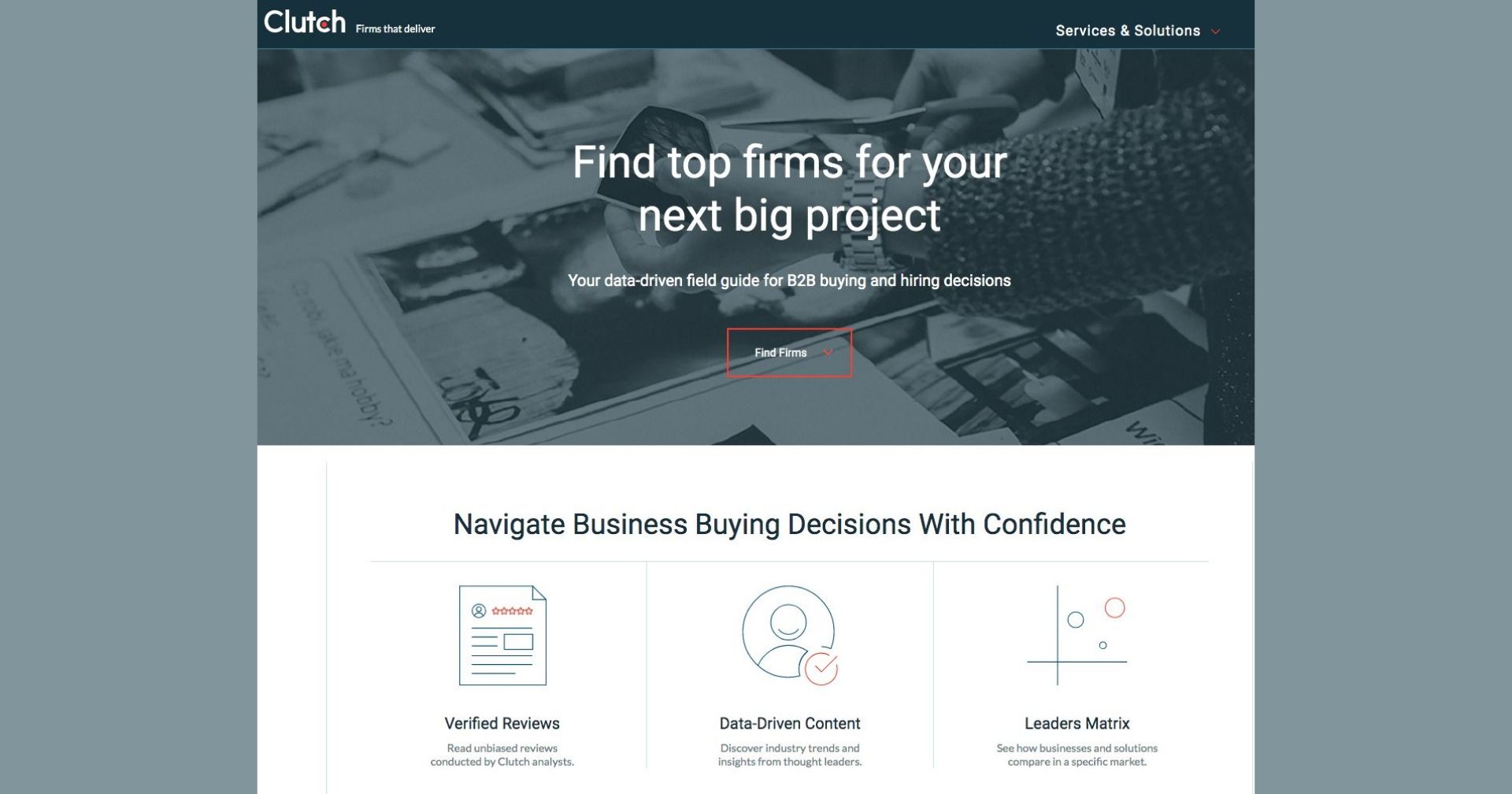 Source: Clutch – Landing page of the Clutch website
IT conferences and hackathons. These events are a great opportunity to meet many professional mobile app developers in one place and get their contact information.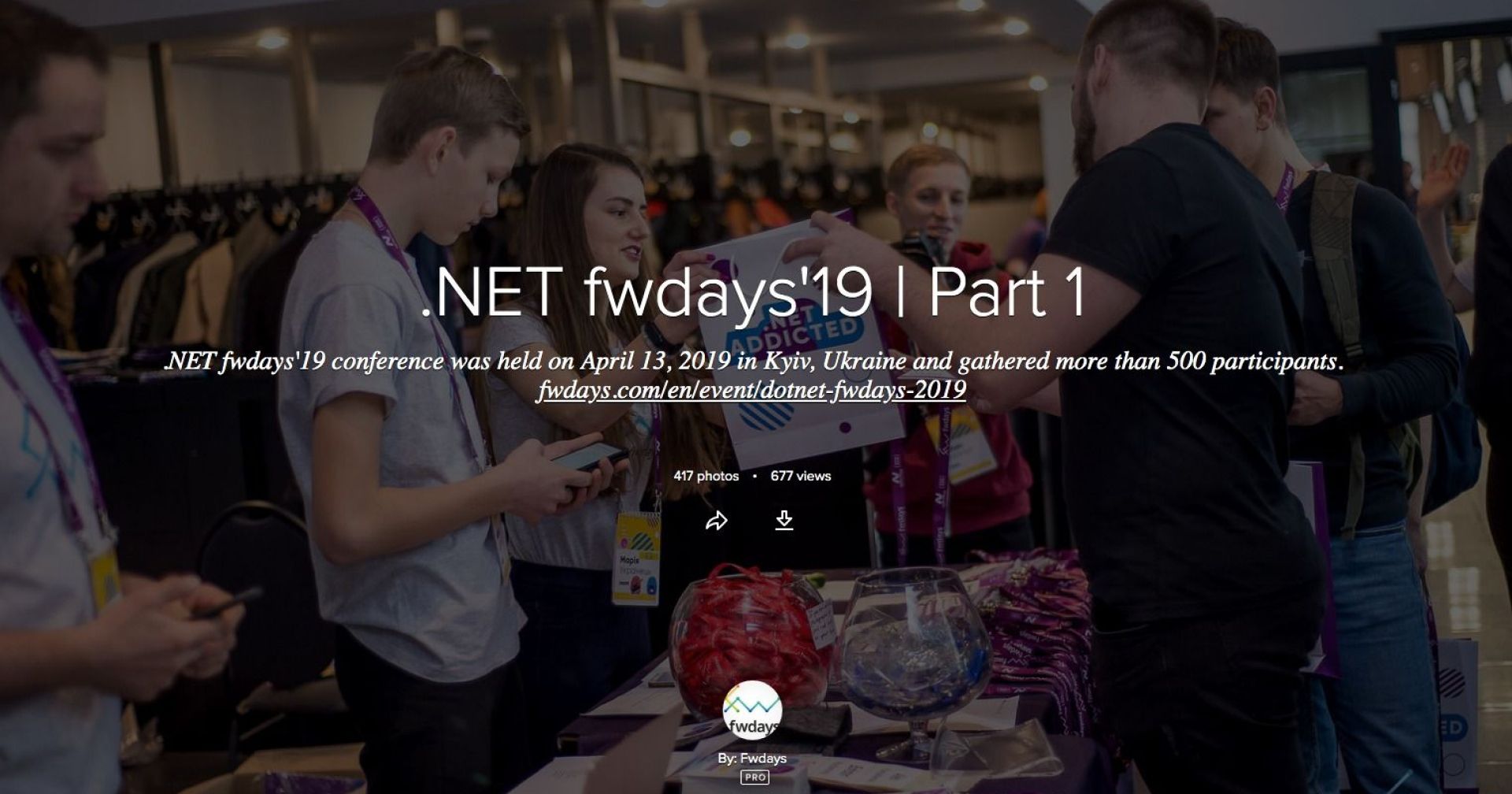 Source: Framework Days – Landing page of Frameworks Days (an IT conference in Ukraine)
Private IT schools. There are many talented students studying in private IT schools around Ukraine, and you can take a chance to hire them for a reasonable price.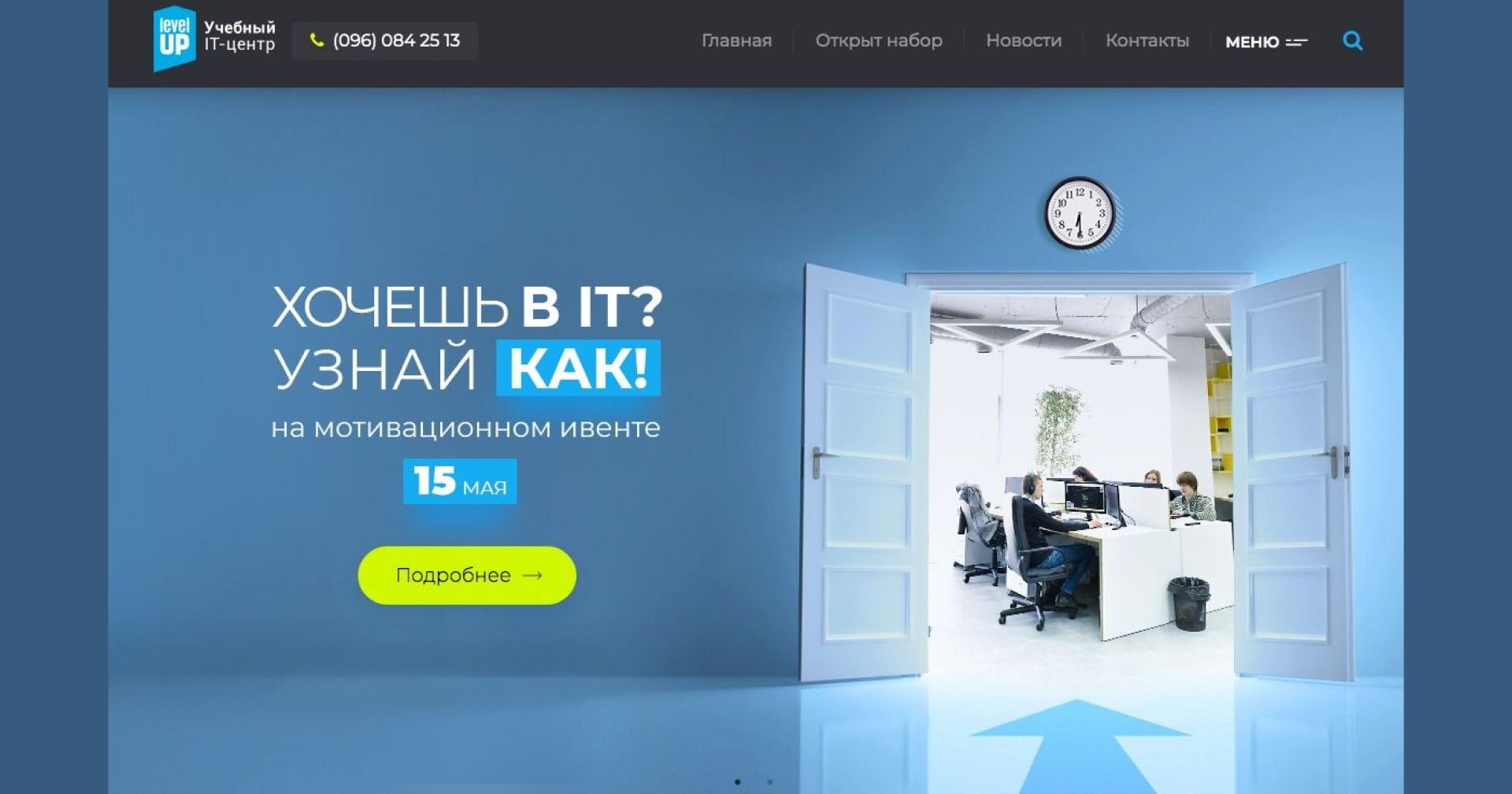 Source: LevelUP – Landing page of the LevelUp IT School
Advantages of outsourcing mobile app developers
Now you know where to find the best mobile app developers in Ukraine. So let's talk about the main advantages of hiring a remote mobile app development team.
Save money
Hiring a mobile app development team from Ukraine can save you money. The average salary of an app developer in Ukraine is half or even a third of what it is in the US, meaning you can hire high-level professionals even with a limited budget.
Save time
You can save a lot of time by hiring an app development team in Ukraine. You won't need your own HRs or cleaning staff, and you won't need to pay office rent and cover many other miscellaneous expenses. It takes a lot of time to find a place to work and people to hire. You can use this time to promote your ideas instead.
The huge pool of talent
Outsourcing is an easier way to find professional mobile app developers for your projects. You aren't limited to big companies; you can find many talented small app development teams and freelancers.
Full control
You can easily manage your mobile app developers via Skype, Slack, Viber, and any other communication tools. Good mobile app developers will provide you open access to Jira, Redmine, Harvest, or another tracking tool.
Disadvantages of outsourcing mobile app development
Advantages always go together with disadvantages, and outsourcing is no exception. Here are some downsides of outsourcing app development:
Potential for data leaks
When you hire remote mobile app developers, you share your ideas with them, which can be dangerous. Your ideas can be stolen and implemented by others. At the same time, this can easily happen in any country, and it's not easy to prove who was the primary source of an idea. To avoid problems and protect your data, sign a Non-Disclosure Agreement before hiring mobile app developers.
Time zone differences
Another disadvantage is time zone differences. If you hire Ukrainian developers, you need to think about their schedule. Ukraine is 7 hours ahead of New York, 8 hours ahead of Chicago, and 10 hours ahead of San Francisco.
Language barrier
The final downside to outsourcing is the language barrier. Before hiring a mobile app development team, make sure they have a good command of English. Headworks mobile app developers know English at an intermediate or higher level, so you won't have any difficulties communicating with them.
Summing up It's not easy to find a good freelance mobile app developer or a development team. However, it's possible to find professionals on Upwork and Clutch or at IT conferences and hackathons. To hire the best mobile app developers in Ukraine, describe your position in as much detail as possible and give timely feedback after interviews. Remember that your developers are real people; keep in touch with them every week, allow them flexible schedules, be friendly, and show that your company is stable and trustworthy. Following these tips will give you the chance to find and hire the best professionals to develop your mobile app.
Headworks is a modern IT company that specializes in mobile app development. We're always there to help you bring your app ideas to life.